The release of Atom Egoyan's Chloe (2009) has spawned an interest in Anne Fontaine's original 2003 drama, Nathalie, which starred Fanny Ardant as the wife who hires a hooker (Emmanuelle Beart) to entice husband Bernard (Gerard Depardieu), so as to ostensibly trap the serial bed-hopper after a recent humiliation.
Whereas Egoyan's film has been recombined into a mystery-erotic-drama set in Toronto, Nathalie was anchored in Paris. One can see why Egoyan was attracted to the original film: emotionally muted characters, erotic imagery set against staid, sometimes elegantly banal locations, and a simple plot of revenge that creates a number of moral dilemmas for the characters.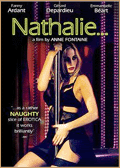 Nathalie featured a soft little score by Michael Nyman, with a piano providing a touch of class, eroticism, and tragedy, whereas Mychael Danna's Chloe music was overtly based around a singular theme that progresses towards fairly dark terrain.
The scores are certainly indicative of each director's handling of improper behaviour, so I've uploaded a review of Danna's score (released by Silva Screen), and a review of Fontaine's 2003 film (Koch Lorber / E1), which is really worth hunting down just to watch how much understated, secretive behaviour is allowed to bubble to the surface, and how little graphic sexuality is depicted onscreen.
Mark R. Hasan, Editor
KQEK.com