As it happens, over the past two weeks a quartet of killer kiddie films came out on DVD, some possessing variable levels of good, weak, or downright awful qualities.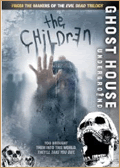 The Children (released by Alliance in Canada) is a very low-key shocker that takes place around Xmas time. Two sisters get together with their hubbies and kids, and a strange virus starts affecting the rugrats. One by one they grow slightly pale, and begin to ponder some important questions: Do I really like my parents? What would happen if I do play with sticks and stones? Does mommy really need two eyes, or can she make do with just one, like a kidney?
Director/writer Tom Shankland (The Killing Gene) explores children acting out these and other world-important queries and quandaries without a concrete examination of the killer bug's raison d'etre, and that vagueness works for the film very well. It has shades of the Village of the Damned (1960), as well as the seventies version of Invasion of the Body Snatchers (1978), but carves out its own original style.
If you're already Blu-ray friendly, grab that disc, because this is a beautiful little production. I haven't seen a shocker with such loving attention to detail since Hard Candy (2005).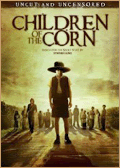 The release of Children of the Corn (Anchor Bay) begs the trappings of being too faithful to a literary work, and that may be its undoing. Of course, all that attention to corn (literally and figuratively) doesn't make the story as scary as it should be.
Donald P. Borchers produced the original 1984 version, as well as several cult classic releases for New World Pictures – a company whose quirkiness made it unique among exploitation competitors.
For the remake, Borchers directs, producers and sort of co-writes, and he's got Jonathan Elias returning to co-score the remake. Now, films starring Bible-thumping loons – kiddie loons, in particular – are rarely scary. It's when the banal indifference of a child's face is used in place of religious banter or nattering (as in The Children) that they become creepy. It certainly worked for the original Village of the Damned (although the peroxide wigs were kind of goofy).
And then there's the latest adaptation of a Jack Ketchum tale. Offspring (Anchor Bay/Moderncine) has feral kiddies and young adults turning a remote homestead into an instant knackery, except for babies and women, whom the young cannibals need for other purposes. Andrew van den Houten, who produced the superb but I-never-want-to-see-it-again film The Girl Next Door (2007) directs this time, and Ketchum wrote the script, with Ryan Shore contributing another dark score featuring fuzzy electronica.
Of the four films, Orphan will get the most coverage by the bigger media sites because it was another glossy Dark Castle production that blew donkeys. (This is a phrase that must be used sparingly, but here it is most appropriate.)
Director Jaume Collet-Serra also directed the 2005 're-imagining' of House of Wax for the production shingle, and while that film was actually fun (Paris Hilton dies beautifully, and the finale involves characters trapped in a house made completely out of wax), Orphan is a major misstep in several areas.
Critics have made light of the inane finale, but I'd argue that it could've worked had the film been shorter, sleazier, and Esther's slide into weirdness as well as her eyes on daddy should've started earlier and progressed more rapidly instead of the measured rate that ultimately drags the film to 123 mins.
That's Two Hours and Three Minutes.
John Ottman's score is one of his best, but even good music can't save a turkey. Joel McNeely wrote a beautifully deranged score for I Know Who Killed Me (2007), and like Ottman's music, the score stands as an example of what the film should've been.
Evil kiddies have been a round for a while, with the granddaddies being The Bad Seed (1956), the Village of the Damned and sequel Children of the Damned, and certainly the first Omen (1976).
(In the case of Damien Omen II, the kiddie was a teen, so that one doesn't really count; in The Final Conflict: Omen III, Damien Thorn was grown adult and became America's Ambassador to Britain, but he had to kill kiddies to get there; Omen IV kind of brought the Thorn kid back as an evil daughter; and the 2006 remake went back to the original story, but was a wholly unnecessary production except that it let composer Marco Beltrami write one of the best retro-seventies religious sleaze scores ever.)
There's also The Good Son (1993) with a teen Macaulay Culkin channeling the bad energy of his showbiz dad to vivify the character of an evil son; and maybe It's Alive (1974), although the Johnson's baby is more mutant toddler than an evil, cognizant child scheming of a bloody, household putsch.
Besides, Johnson Jr. was content knocking off the milkman, and that shows a complete lack of ambition.
- MRH