Back in
September
, I posted reviews of Robert Siodmak's
Escape from East Berlin
(1962) and the documentary/travel video
Mauerflug
('flight over the Berlin Wall') as the first in a series tied to the giant reverse-chastity belt that was designed to prevent East Germans from penetrating the west.
Here in Part Two, I've uploaded a pair of reviews dealing with Berlin before the Cold War, and the city smack in the middle of it. Both productions are biased towards British POVs of the city, and don't really present the drama from the average person's stance.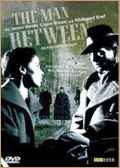 The Man Between (1953), for example, has a snotty and ignorant waif visiting her brother in the British Sector, after which she ends up in the East and has to flee with the gangster she's fallen for during her exotically dangerous sojourn. The film – still unavailable in Region 1 land – could be regarded as director Carol Reed's second poke at postwar thrills-among-the-ruins, after The Third Man (1949), although nowhere as clever nor intriguing.
James Mason pulls off a decent East German (even his pronunciation of German is serviceable), and Claire Bloom looks beautiful in spite of playing an idiot. The location footage and recreation of ruined quarters is stellar, however, as is John Addison's thematic material.
Reed's film takes place pre-Wall; the GDR regime was starting to tighten its grip on citizens and crack down on flights to West Berlin, and barbed wire and military checkpoints were more severe, but one could still find venues to exit the Eastern Sector.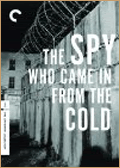 The Spy Who Came In from the Cold (1965) was a superb realist drama – WASP-style – taken from John le Carré's best-selling espionage thriller about a British spy who feigns revulsion towards the British government/western politics and heads over to East Germany with his suitcase of secrets.
Spy is the antithesis of sixties spy films because it's about characters, spy psychologies, and outright misery. Richard Burton is beautifully subdued under Martin Ritt's direction, Oskar Werner steals the film at every angle, and Claire Bloom plays a far less naïve woman, although she's essentially the perfunctory love interest.
Only the last scene takes place in East Berlin (er, a custom set built in Ireland), and the obligatory flight to the west is shorter, less elaborate, but far more tense than what Reed prolonged in his flat film.
The reason Ritt's finale works in its compact dramatic state is purely because of the characters we want to see happy after been abused by governments and ideological monsters. They deserve a chance at peace, and the tension one sees as Burton tries to keep his performance style under several notches actually makes his scenes more compelling, because one senses his character is struggling with emotions kept locked up due to his risky profession.
There are no explosions, tricked-out Aston Martins, or bald men trying to destroy planet Earth with a lethal gas, but it's a rewarding drama, as well as another fine example of British Bleakism. Spy isn't precisely about Berlin – it's the kludge centre where everything happens once the various levels of badness comingle – but it's symbolic of the city being mucked up because the postwar winners are playing an elaborate game of chess.
Author le Carré points out in an interview on the Criterion DVD that while one man is sacrificed in the film's pivotal courtroom sequence, many more of his colleagues and underlings will probably lose there jobs, their dignity, and some their lives due to automatic guilt-by-association.
Paramount released their own bare bones edition of Spy on DVD, but Criterion's special edition from 2008 is worth every penny for the super transfer (Sol Kaplan's grim little score is in true stereo!), plus some excellent extras.
- MRH