Coming out tomorrow is the latest
Final Destination
sequel from Warner Bros., who've oddly retained the New Line shingle in spite of shuttering the company's ability to produce and release product.
Released theatrically in 3D, FD4 is presented both flat and in 3D on DVD and Blu-ray, but the DVD edition leaves a lot to be desired, and is another victim of WB's decision to isolate special features to the BR edition. What's grating about WB's tactics is that while the company was all fine in making content identical to BR and the dead HD-DVD format a few years ago, DVD owners are regularly treated to a guessing game as to what features (if any) will be available when an effects film debuts on home video.
Trick 'R Treat is perhaps the worst DVD release of 2009 – great film, rotten DVD edition – and it's no surprise the extras made for Terminator: Salvation and the imminent FD4 were heavily curtailed for the DVD release. Either WB thinks DVD is dead or dying, or there will be a meteoric rush to upgrade to BR. (Which, in this economy, is unlikely. A gradual upgrade, perhaps; but outright replacement of DVD within one year, highly doubtful, and dumb.)
I'll have more comments regarding the quiet shift classic and back catalogue titles are undergoing on home video – on-demand versus the once-prolific monthly wave of DVDs – later this week, as I've uploaded more horror/thriller reviews to the site.
In addition to The Final Destination (Warner Bros.), there's also a pair of thrillers from indie filmmaker Ti West. His debut, The Roost, was a bit divisive for horror fans: they either loved the slow pacing and concentrated attention towards one location, or found it a great big clumsy bore (which unfortunately, I did). The film is notable for inspiring Jeff Grace to write one of the most terrifying scores in years, and happily the composer's association with West also continued with Trigger Man (2007) and The House of the Devil (2009).
The former has yet to appear on video here, so the film review comes from the German Region 2 release, which has some notable extras. House of the Dead will make its DVD and BR debut in March overseas, but it's worth catching the film in a theatre for West's near-perfect making of a vintage eighties slasher. Every pacing fetish that disaffected The Roost (as well as the early half of Trigger Man) works in House, and the cast is uniformly strong. It's a good shocker that emphasizes mood over gore, and while blood and brain matter do splatter now and then, West is too smart to fall into the torture porn trap.
His approach in House is very simple: introduce the premise, map out the physical location for the character and the audience (a big old creepy house in Nowhereland), and then introduce the lethal stressors that punish the poor babysitter.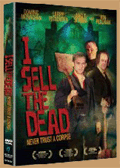 In addition to the West films, Grace also scored Glenn McQuaid's I Sell the Dead (Anchor Bay), a fine little mordant black comedy about grave robbers and the increasingly weird cadavers the pair must retrieve to maintain room and board.
I'll have a new interview with Grace this month, alongside reviews of the scores (each available on CD and digitally from MovieScore Media), but for now, do check out the film reviews.
Also imminent are reviews of John Woo's original, two-part, 5 hour historical epic Red Cliff (out on DVD and BR overseas), as well as Taro Iwashiro's excellent score (via Silva Screen).
I'll also a have a review of Jerry Goldsmith's Freud, newly released on DVD (in stereo! from Varese), as well as a film review; and Bill Conti's That Championship Season (La-La Land) and The Right Stuff (Varese).
Lastly, all those Berlin-centric reviews will be up in stages, starting with the first German production shot after the war, Wolfgang Staudte's The Murderers are Among Us / Die Mörder sind unter uns (1946), starring Ernst Wilhelm Borchert and a baby-faced Hildegard Knef; and the first Hollywood film shot in postwar Germany, Jacques Tourneur's Berlin Express (1948), starring Merle Oberon, Robert Ryan, and the IG Farben Building.
- MRH