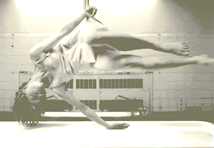 Whenever a list of nominated or winning titles in a best-of or industry awards tally is revealed, there's a curiosity among some (me) as to what's currently out or will be out on DVD.
The relative newness of those films means few will actually be commercially available at the time of announcement, but at least the publication and publicity of a list generates some interest in the filmmakers and their work (ideally).
In any event, below is the list as revealed this morning at Canada's Top Ten. The official website includes brief bios of the filmmakers, the nominated films, and the panel who voted on the candidates.
From January 14-21, 2010, the TIFF Cinematheque will screen the films as well as offer panel discussions.
The 8-day event may well be the best opportunity to catch the lot, since it might be a while before the bulk of the films will appear on video or as digital media.
Film titles below with hyperlinks will take you to their respective official websites; the linked director names will glide you to IMDB entries; and the remaining links indicate availability on DVD, and DVD review(s) at KQEK.com.
Feature Films:
Cairo Time – (dir. Ruba Nadda) --- Released Jan. 19, 2010 (DVD/BR)
Carcasses - Denis Côté
Crackie - Sherry White
Defendor - Peter Stebbings
La Donation - Bernard Émond
J'ai tué ma mère - Xavier Dolan
Passenger Side - Matthew Bissonnette
Polytechnique - Denis Villeneuve --- Read the DVD review HERE
The Trotsky - Jacob Tierney
The Wild Hunt - Alexandre Franchi
Short Films
The Armoire - Jamie Travis
?E?ANX (The Cave) - Helen Haig-Brown
Danse Macabre - Pedro Pires
Five Hole: Tales of Hockey Erotica - Cam Christiansen
Naissances - Anne Émond
Out in that Deep Blue Sea - Kazik Radwanski
Runaway - Cordell Barker
The Spine - Chris Landreth
La vie commence - Émile Proulx-Cloutier
Vive la Rose - Bruce Alcock
- MRH