With the YoYo bug now gone from the system, I'll be uploading batches of reviews each day, along with some blogs originally slated for earlier uploads.
First off is a pair of reviews. Jerry Goldsmith's short scores for I.Q. (1994) and Seconds (1966) get their premiere releases on one disc from La-La Land Records, as well as a remastered and expanded CD of Joe Renzetti's Child's Play score from 1988.
The main jewel of the Goldsmith couplet is Seconds, a short but gripping doom and gloom score that's a great companion to his brilliant Freud score, whereas I.Q. shows the composer tackling comedy and drama by wiggling between several musical styles.
Renzetti's film work is relatively sparse, yet he left an important mark on electronic film music as well as horror films with the original Child's Play film, as well as Poltergeist III (I know… It's still a Gary Sherman idiocy, but at least the score was fun), and Frank Henenlotter's sick gem Frankenhooker (whose score did get a CD release, via Silva Screen).
Coming next will be reviews for a pair of MovieScore Media releases, and soon after the latest releases from Silva Screen, as well as an interview with composer Frederik Wiedmann regarding his score for the The Hills Run Red (2009), the latest shocker from Dark Castle that isn't the company's usual offering of horrifically inept storytelling. (I'll also pair the interview with a film review.)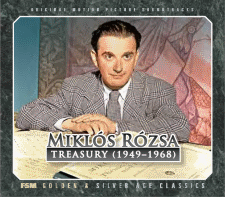 Film Music News
Well, when word of a 15-CD boxed set featuring a bevy of Miklos Rozsa scores was underway at Film Score Monthly, two questions dominated online discussions: How much will it cost? And more privately, how the heck will people pay for the monster?
Actually, the fear that it would be some beastly $300 tome is gone, now that one can pre-order the set via Screen Archives Entertainment for $179.95 plus shipping. It's still a hefty amount in an era when digital albums are less pricey (and aren't subject to shipping issues), but then there's the rights issues that sometimes prevents online retailers from making some digital content available to other countries – a problem that's often null and void when it's a physical CD.
Either way, if you're contemplating the purchase of this set, no worries, as I'm still sitting on the fence myself about the older Elmer Bernstein FMC box that's still above my budget, and I also missed out on some of the smaller composer and genre sets (all limited issues) back when the Canadian dollar was worth mud.
The FMC box, along with FSM's Superman box, both featured bound booklets, something that producer Lukas Kendall said added significantly to each set's overall cost, which is why the liner notes for the Rozsa box are available online.
The practice is also a clever way to publicize exactly what's in each box, so you can drool before an announced street date, and decide whether you can do without a turkey this Christmas, and just play Rozsa for the family while holding pictures of what you would've cooked and baked that night.
Most likely, your holiday dinner would sound like this:
"Can't we just order a pizza?"
"No! Listen to The Power! It's in stereo, AND longer!"
"But the pizzeria is next-door…"
"Either sit still and devour the nuances of this Golden Age maestro, or leave the premises and forego eating rights for next year's Easter dinner."
"But what if there's another boxed set in April?"
"Then I will provide bread and water. Let's hope if anything IS planned, it's a Bernstein liturgy."
"Who's Bernstein?"
"GET OUT!"
Ahem.
Also announced last week is a 2-CD set of Alan Silvestri's Back to the Future, with Intrada limiting the pressing to around 3000 copies; and a 2-CD set for Lee Holdridge's In Search of Peace soundtrack (limited to 1000 copies, and apparently sold out at the label's site, though check out other online retailers). The label's prior limited CD, Jerry Fielding's Gray Lady Down, is still available.
New from FSM is Lalo Schifrin's Bullitt, which makes this the score's third incarnation on disc. The classic Warner Bros. LP and CD were studio re-recordings of the film's main themes, and some cues were cross-mixed with roaring car engine sound effects, as well as a gunshot and screaming crowds at the end.
Schifrin himself re-recorded the score for his Aleph label, and FSM's CD marks the first time the original film score recording has been released. FSM's also adding the shorter Warner Bros. album to their CD, which should make for some interesting comparisons, particularly in the jazz source cues and their respective improv solos.
England's Harkit Records has reissued Jerry Goldsmith's The Trouble With Angels (1966), a brief 28 min. score originally released by Mainstream Records on LP, and then on CD in 1991, where it was coupled with the composer's Stagecoach score.
Silva Screen's new roster includes music from two Doctor Who films from 1965 and 1966, Dr. Who and the Daleks, and Dalek's Invasion Earth: 2150 A.D., respectively, as well as Red Cliff (which I'll review next week, alongside the original 2-part Chinese version, since the shorter American cut will likely be the only version available in Region 1 land for a while).
Peter Thomas' music from the late sixties German boobery films Die Volkommmene Ehe and Das Leben Zu Zweit makes to CD via Chris Soundtrack Corner / All Score Media.
La-La Land Records' next wave of titles includes Bill Conti's That Championship Season (which I'll also review next week), as well as Les Baxter's Panic in Year Zero (previously available as a bootleg album, and as an isolated score track on the old Image laserdisc).
Kritzerland Records' latest releases include Elmer Bernstein's Love with the Proper Stranger and A Girl Named Tamiko (both sourced from the original 3-track stereo album masters), and Ernest Gold's previously unreleased Pressure Point (taken from the composer's mono tapes). The label's prior goody was the pairing of Richard Rodney Bennett's Billion Dollar Brain and Roy Budd's The Final Option (both previously released by FSM in their MGM Soundtrack Treasury box).
Spain's Singular Soundtrack, incidentally, just released Bennett's Lady Caroline Lamb on CD.
Coming soon from Italy's DigitMovies are Guido and Maurizio De Angelis' Orzowei Il figlio della savana and Il Marsigliese, Gianni Ferrio's Quei disperati che puzzano di sudore e di morte, Stelvio Cipriani's Squadra volante and La polizia ringrazia, and Carlo Rustichelli's Il Dominatore del Deserto, Maciste alla corte dello Zar, and I predoni della steppa.
Italy's Avanz Entertainment will release Jessica on CD, a score composed by Mario Nascimbene (with some compositional credit to director Jean Negulesco). It's unlikely the disc will include more music than the short UA LP, but the CD will also contain bonus tracks (4) from the 1967 spy spoof Dick Smart 2.007.
Lastly, Britain's Network will released music from Edwin Astley's Danger Man and Department S series on separate CDs.
- MRH