This past Sunday Dec. 6th marked the last day of operation of Toronto's Carlton Cinemas, a modest Cineplex multiplex built in 1981, and known for showing indie and foreign films prior to their widespread availability on home video and specialty channels.
Situated on Carlton Street, east of Yonge, on the north-east side, the vintage design wasn't anything elaborate: lots of purple and mauve colours, if I recall, a small admission wicket, a compact snacks counter, and the hallmark of multiplex design - small screens, uncomfortable seating, 'meh' sound systems, and little blinky lights embedded in ropes of clear floor caulking as floor ornamentation and functional guidelines within the theatre aisles (a familiar design trait of Cineplex' eighties style).
From a functional standpoint, the Carlton did what it was designed for – deliver smaller films to niche audiences as well as neighbourhood locals who enjoyed a quick walk or commute to a nearby theatre without the heavy traffic typical of big theatres showing nothing but blockbusters and crossover favourites.
The last film I saw there was probably Like Water for Chocolate (1992), which I remember because I was the only audience member who felt the film was manipulative crap. I had paid for the ticket, and was obliged to see it through to the end because a friend was enjoying the thing, and needed a ride home to 'that vast steel and concrete wasteland' where we lived – North York. The most indignant aspect of the end (and a painful kick in the pants) was the insulting parking ticket someone had placed on my car, which I had parked on a small street beside the old CBC radio office.
In one way, the theatre's closure isn't a surprise because home video and specialty TV stations like Showcase and Bravo started to usurp movie patrons from theatres. The old Revue Video store on the Danforth was known for carrying a huge selection of rare VHS rental tapes of foreign films, and the store started to feel the pinch when people were getting their foreign film fix from TV, particularly during the chilly winter months.
No doubt the success of specialty channels affected the Carlton's business, although there was and remains a loyal group who prefer to see a film in theatres and enjoy the communal filmgoing experience. (At least in 1991, average audiences were less diseased with cellphones, glowing mobile toys, and families that imported their noxious chatty behaviour from their basement TV room into the theatrical realm.)
Changing demographics may also have seen the cinema's core audience aging, marrying, and finding less time to sneak out and catch movies as often as before; instead of two or three films a week for the hard film fan, it may have dwindled down to a few per month, with more time being taken over by heavier work schedules, family activities, and weekend dinner with the parents.
You could argue the reason the youth market still makes up the top moviegoing demographic isn't because of disposable income, but disposable time, and that key demographic isn't made up of a majority of adventuresome film fans keen on art house films.
While I don't miss the 'Carlton experience,' I do mourn the loss of another neighbourhood theatre, since most movie houses people attend are the multiplexes at major intersections larded with tent-pole pictures – blockbusters that are functional forms of escapism, but really do little to provoke the brain or push creative boundaries.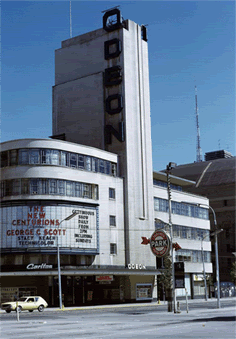 What's surprising – at least what surprised me a while ago – was that the Carlton bore the name of a massive 2300 seat movie palace built by Britain's Odeon chain in 1948, and that gorgeous postwar deco building remained at the corner of Carlton and Yonge until the early seventies. It was another classically tragic case of a big single screen palace no longer useful to theatre owners. The property was valuable, the building was old, and less and less patrons were coming. If the quoted stats in the Torontoist piece are spot on, 250 people in a 2300 seat theatre is a sad state.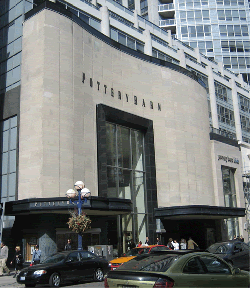 And yet the Odeon Carlton theatre was ultimately murdered, much in the way the University (now a Pottery Barn) and the Uptown (soon to be a luxury condo) were killed by developers, literally robbing future generations of Torontonians of knowing what it was like to have a genuine vintage movie palace in their own town. From the descriptions of the Odeon's interior, it sounded amazing, and perhaps the only local remains from that bygone era of gilded showmanship are the Elgin and Winter Garden theatres, which were given life after a long period in hermetic stasis, although their prime function isn't as a mainstream movie theatre.
My memories of the corner of Yonge and Carlton are indicative of a post-Odeon generation: on the north-west section of Yonge, a few doors above College was a shop where one could buy Chrome audio tapes, cheap name brand VHS tapes, and for several years, Beta tapes, long after the format had died, and every other shop had dumped their stock or let it run out.
(The last batch of Beta tapes, incidentally, where a 'universal' L-750 that stated recording times in NTSC and PAL. This run was obviously part of a final batch meant to keep the few Beta machine owners happy, be they in Canada, Hong Kong, Europe, or the Philippines – the latter apparently one of the few regions where the format remained active beyond North America.)
There was also a parking lot on the south east corner, which eventually became a series of large condos. Yonge and Carlton was, during the 1980s and early 1990s, a bright intersection; there was something called "sunlight" that made the corner more uplifting, a quality less common since the south eastern corner's been capped with a cluster of condos cramped in places that don't leave much walking room, rest spots, or Vitamin D rays for pedestrians.
Where the Odeon Carlton stood became the CAA building (if I recall), a bluish edifice that seemed to evoke the original theatre's form through its curved corner, but it otherwise looked like an ugly, hastily constructed building with mixed blah office space, parking garage, and big banners on travel deals.
The closing of the Cineplex Carlton this past week may have marked the end of one of the last vestiges of the original Cineplex cinema design – small theatres compacted into a small commercial space with little regard for comfort, showmanship, or fidelity towards the filmmaker's original cinematic design of grandeur and big screen sound.
Back in 1989, I travelled up to Richmond Hill to meet some friends and take advantage of the multiplex at Hillcrest Mall. (I'm pretty sure it was this mall because owner Cadillac Fairview also had Cineplex multiplexes in their other prestige suburban property, Fairview Mall.)
My friends' claim that one could see a film for a buck (or was it two?) were true. We walked from their brown apartment on Baif ("barf") Boulevard across the mall parking lot, and inside the mall sat a large multi-screen complex with décor that was literally frozen in time, more so than what remained for years at the old Famous Players Bayview Village Cinemas at Bayview and Sheppard.
(The Bayview venue was a regular source of entertainment during my pre-teen years because it was an easy bus ride in pre-Sheppard stubway times, and their single level parking lot was still big enough to hold parked cars. I caught Mel Brooks' History of the World Part 1 (1981) there twice, Meatballs (1979), and had to wait two hours in lineup for the next showing of Superman II (1980) because we arrived too late for the first matinee, and couldn't make use of the seats a friend was saving for us.)
The Hillcrest theatres were filled with a vintage red, orange, yellow, puce, and green coloured fabrics (like my mother's kitchen), and it was a genuinely surreal experience seeing a modern film – Star Trek V – in mono. (I even made a point of telling my hosts that, of whom 'Da' just laughed.)
Most likely the $1 movies were a quick and easy way to keep the place semi-solvent, but like the Odeon Carlton, it must have been a last-ditch attempt to deal with rapidly dwindling audiences; with the Odeon palace, it was a single screen theatre built to show epics, whereas the aforementioned Cineplex was a no frills operation that had become an obsolete form of theatrical film exhibition when Big Screen-Big Sound was the ad mantra of the major chains.
Why would you want to leave home when your own TV and seminal home theatre system (circa 1989) offered better picture and sound?
Of course, had the Odeon movie palace survived into 1977, it may have benefitted from the resurgence of blockbusters such as Star Wars, since it was designed for event screenings. That may be why the University lasted so long, since it was The place to see new monster hits (Star Wars: The Empire Strikes Back) as well as classics (Fantasia). My last experience at the University was Aliens (1986). It was loud (actually, too loud...), it was BIG, and I actually gripped the shoulder rests because the film was so intense in that monster theatre.
The Cineplex Carlton became a viable venue because even though home video had taken business away again from theatre exhibitors, the Carlton was still a place to see those indie and foreign films most video shops wouldn't get for a while because the windows between theatrical, Pay TV, home video, and TV were longer, and allowed small films to earn money slowly instead of the retarded fast-grossing system now in play.
During Cineplex' expansion into malls, company bigwig Garth Drabinsky (and maybe some of his like-minded advisors) perhaps felt with all the money from the cheap exhibition outlets, a return to Big Screen Big-Sound was deserved again.
On the one hand, the Dolby Surround and EX systems were already in place in several theatres, and technology had spread the gear down to the home theatre enthusiast. Those two factors may be the reason why Dolby Digital became the next exhibition standard, and why the Victoria Terrace complex was the first to be fitted with a Dolby Digital setup.
The first trailer – a chugging steam engine emerging from a mist, and its travelling over and past audiences – was a great little showpiece of Big Sound, and yet that historical complex, built in a modest mall at the corner of Lawrence and Victoria Park, was shuttered, and re-merged as a health spa. A health spa.
On the one hand, the evolution of technology, economic realities of theatrical film exhibition, and audience viewing habits are more fluid than in the past. One need only look at the wealth of neighbourhood theatres that existed in Toronto or any major city that vanished in the seventies and eighties and became carpet stores, spas, or were raised to the ground and replaced with a banal condo, or stood rotting until the hulk was somehow reconfigured for another commercial enterprise.
Remember Michael Bay's The Island (2005)? Not a particularly good film, but there's a car chase that happens in the second hour, with high-performance machines roaring and screeching in a garage that's periodically show to have huge vaulted ceilings with ornate paintings and plasterwork. That was the Michigan Theater, one of Detroit's movie palaces.
Here's a test.
Look at the picture of the lobby via this link. Examine the details carefully and commit the splendor to memory. Now grab your copy of The Island – oh come on, everyone knows somebody who owns a copy – and cue up to the car chase. Now look back at the picture of the theatre in its heyday, and then check out these current snapshots that show in greater (and absurd) detail how the theatre was gutted to fit a three-level parking garage, archived HERE at Flickr. The exterior historical plague seems absurd, if not laughable, to say the least.
In Toronto, the decision to redevelop the University theatre was frozen when the housing boom went kaput, and the facade stood there on Bloor street, suspended in the rear by girders, so people heading off to their parked cars wouldn't get flattened one windy day by an errant hunk of masonry. I still recall a newspaper piece describing the combo-plex that was planned: a huge screen with several small ones, and a large condo tower.
Never happened. The building's rear was ripped out, and the land expropriated for parking. The facade's inner guts still showed some detail, including the black & white square tiles that probably were part of the balcony's lavatory (which, if memory serves correctly, was a bit smaller than the main level. I think there was also a smaller snack bar for the balcony patrons.)
As the Carlton is no more, people should take note of its demise, because in five years, few will remember the small theatre at all, and much like the original Odeon, it'll become a historical footnote among an aging generation. The new Carlton theatre may not have deserved great praise, but there's something poignant and tragic in the way a building that once shared time with enthusiastic audiences is now dead.
In Toronto, nowadays old buildings are replaced with conservative banalities, although there is talk that the multipurpose Bell Lightbox might fill that void when the complex is finished, even though a number of healthy indie theatres would probably welcome former Carlton patrons. (It would be ironic if the gap between the Carlton's closure and completion of the touted Lightbox gives extant theatres a boost in business, and a larger clientele base...)
For those who share a belief that a massive structure like the Odeon Carlton, built by artisans and enjoyed by audiences for generations, had a bit of a soul, visit the following links of now-gone movie and live theatre venues, and read some of the reader comments, since some of the posts include ex-employees with memories of specific locales.
Eric Veillette's piece on the Carlton at 32 Elvis Movies includes some vintage stills and publicity art of the Odeon theatre, as well as an update on the recent closing (augmented with original Cineplex promo art). Other articles regarding the Cineplex Carlton's closing include a piece at Eye Weekly, the National Post, and this still, taken as the marquee was being efficiently removed.
I wonder if they'll be able to remove all the blinky-blinky lights in the caulking as easily.
Note: for an update on the Carlton Cinemas's resurrection, click HERE.
- MRH