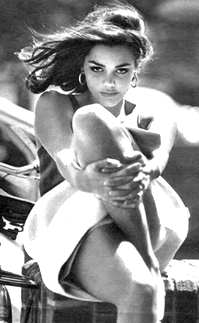 Before his decadent switch to sexploitation and erotica, Tinto Brass made a pair of films wherein he experimented with sophisticated editing concepts (visually and aurally) to create narratives from loosely drawn concepts, as well as inject some commentary on the political and social turmoil of the times.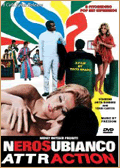 Both Attraction / Nerosubianco (1969) and The Howl / L'hurlo (1970) are more accessible than expected – each has a premise that pushes unexpected couples on wayward journeys – but they're part of a wave of provocative films from European filmmakers designed to shock, upset, and titillate audiences.
The overall impetus was to show people moral and political issues using a subjective viewpoint (the filmmaker's) and provoke some thought about what was going on, be it student protests against whatever war was being raged by a colonial power, sexual repression, or a communist regime shoving doctrine down the throats of its citizens in every manor and method possible.
Think a little for yourself, fight against a brutal regime, and enjoy the benefits of the human body – themes Brass weaves together in his raunchy political fable The Howl. Politics are less evident in Attraction (released in the U.S. by Radley Metzger's Audubon Films under the cheat title The Artful Penetration of Barbara) because Brass was still having fun with the pop art of swing sixties London – a lingering interest from his prior film, the partial giallo Deadly Sweet (1967).
Whereas The Howl is a trippy little fable, Attraction unfurls like a contemporary music video, since the lead heroine's adventures are comprised of musical vignettes where the score's composers – members of the band Freedom – appear on camera and in scenes with other characters.
Cult Epics recently released the two films separately (and as part of a boxed set, alongside Deadly Sweet), and I've uploaded lengthy reviews for both.
Also added to the mix is a I Miss Sonia Henie, a rare short made for the 1971 Belgrade Film Festival wherein select directors - Karpo Acimovic-Godina, Tinto Brass, Mladomir 'Purisa' Djordjevic, Milos Forman, Buck Henry, Dusan Makavejev, Paul Morrissey, Frederick Wiseman - were challenged to shoot actors with a locked off camera and fixed lens, and figure out some way to work in the phrase "I miss Sonia Henie."
The pieces were edited into a 14 min. film by Godina, and the results are expectedly uneven. Still unavailable on DVD, the short does pop up at rare screenings (MOMA included the film in a 2008 retrospective of Milos Forman), and segments are available at YouTube, with English subtitles.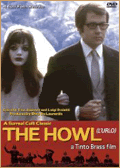 So how does Tinto Brass fit in with cinema agitators Fernando Arrabal, Alejandro Jodorowsky, and Dusan Makavejev? The argument begins with The Howl…
- MRH