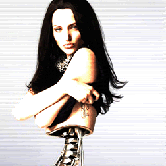 Uploaded late last week is an interview with composer Richard Marvin, a successful composer – hugely successful, actually – in TV (Six Feet Under, In Treatment) as well as feature films. A longtime associate of director Jonathan Mostow, Marvin's latest score for the film Surrogates *finally* gets a release date of November 10th as a downloadable MP3 album and CD from Lakeshore Records.
The Surrogates score is a flawless marriage between electronics and orchestra, and is highly recommended as a sci-fi soundtrack with strong emotional and kinetic action content. For a detailed discussion of the score and Marvin's longtime experience with electronic instruments (including as a musician on several beloved Maurice Jarre scores), read the interview.
Also uploaded:

- Robert J. Kral's kinetic score for Green Lantern: First Flight (La-La Land Records), a score that should give your stereo's subwoofer a damn fine good workout

- Taking Woodstock (La-La land Records), Danny Elfman's venture into retro seventies rock for Ang Lee's odd little comedy drama

- Rex Steele: Nazi Smasher and Other Short Film Scores (MovieScoreMedia), one of the best composer compilation albums this year. I've yet to interview Ryan Shore, but this album proves this composer's ability to write for any genre. For Jack Ketchum's Offspring (2009), it was an icy fuzz electronica approach deliberately evoking Cannibal Holocaust, but Rex Steele features a raucous, regal, and moving collection of suites and themes from 7+ short films
- Spore Hero (EA Games), Winifred Phillips' latest video game soundtrack. This time it's for the new Nintendo Wii game, and it's an hour-long series of lengthy, meaty themes and clever variations. Solid narrative, and another album by a composer to keep watching for (and listening to)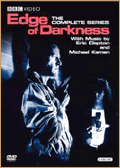 In terms of DVD news, a long while ago I snapped up the Region 2 BBC release of Edge of Darkness (1985), the British mini-series that really gave Martin Campbell his big career break. The series has been remade for American theatrical audiences with Campbell in the director's chair, and while it's easy to say this film version slated for 2010 is NOT NECESSARY, perhaps it'll please audiences hesitant to try out the long mini-series, or have them check it out beforehand (which you should do).
That said, while I'll have a review of the series up next week (along with Campbell's early nudie-roughie-silly Brit sexploitation film from the seventies), I will confirm that the Region 1 release out this week is a literally NTSC-PAL conversion of the same Region 2 master, and it includes the same featurettes, vintage interviews and isolated score by Eric Clapton and the late, great Michael Kamen.
Clapton's forays into film and TV are few, but this was one of his best because of a damned soulful guitar theme which nailed a father's heartache in losing his daughter, his horror in finding she was pawn in a murderous plot, and trying to make sense of the madness when madness itself is mucking up his own sanity. Big themes nicely delivered in a riveting 3-part mini-series (and a heroine that's much more sympathetic than the vague, forgettable variation in the film version of The Constant Gardener).
Also new this week is Criterion's DVD and Blu-ray releases of Wim Wenders' Wings of Desire (1987), with a new commentary track, and a second disc of extras I'll have reviewed in time for next week's 20th anniversary of the Berlin Wall's demise.
And just because variation is important, coming next are two Tinto Brass features from Cult Epics – Nerosubianco / Attraction (1969), and L'urlo / The Howl (1970) – two films one can regard as the director's last and very sincere editorial experiments in pop art and political/social/sexual satire before he lost his mind and went popo-crazy.
In 1969, there was the group of European provocateurs Fernando Arrabal, Alejandro Jodorowsky, and Dušan Makavejev… and Tinto Brass, and I'll explain why, without losing my soul.
- MRH